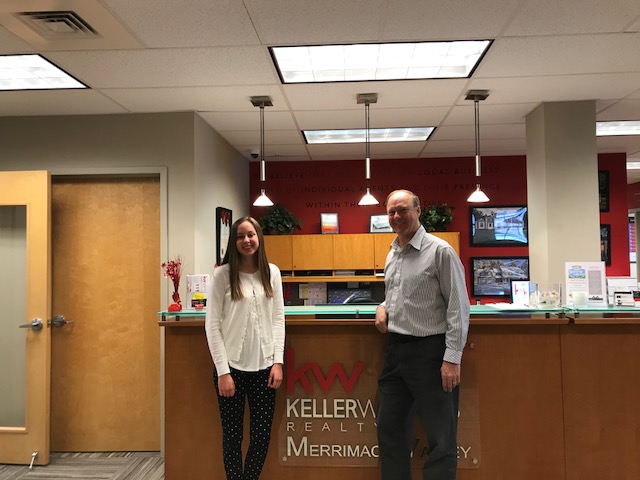 As long-time members of the community and having been involved in Real Estate in Westford and the surrounding areas for over 16 years, Peter Thompson of The Thompson Team Real Estate is always looking for ways to give back to the communities that have given so much in return!
So, when the opportunity came up to work with an intern through Westford Academy's Senior Capstone Experience, we jumped at the chance, and are we ever happy we did!
Julia Whelan impressed us with her poise and enthusiasm when we interviewed her in January and while only working with the team for a brief time, has been contributing to our marketing efforts.
To introduce her to our clients, we asked Julia a few questions about the program and why she chose to intern with The Thompson Team; below are her answers!
Q: Please tell us a little bit about yourself.
A: My name is Julia Whelan and I am a senior at Westford Academy. I have a twin brother who also attends WA and a younger sister at Blanchard Middle School. I've lived in Westford for almost eight years and am excited to be interning with The Thompson Team - Keller Williams through the Senior Capstone Experience.
Q: What have you been involved in while at Westford Academy?
A: While at Westford Academy, I enjoyed participating in the DECA Business Club, which taught me an immeasurable amount of business/marketing knowledge and helped me practice interview and public speaking skills. I am also very immersed in volunteer work; I teach Sunday School at my church and last summer, participated in a missions trip to West Virginia (I will also be attending one this summer in Houston, Texas). I am also a member of the National Honor Society and work at the Abbot Elementary School After-School Program.
Q: What are your plans for college?
A: In the fall, I will be attending the Isenberg Business School at UMass Amherst. I plan on majoring in marketing and am considering double majoring in psychology. I'm excited to join some of the business clubs, meet new people, and sign up for classes.
Q: How did you get interested in marketing?
A: I've always enjoyed writing and designing, and the blend of creative aspects and real-world relevance that marketing offers is perfect for me. After taking classes such as Marketing and Social Media Marketing at WA, in addition to participating in marketing-based events through DECA, I discovered that marketing truly was a good fit for me.
Q. What is the Capstone Experience and what does it entail?
A: The "Capstone Experience" is essentially a 6-week internship or project that almost all WA seniors participate in at the end of the year, instead of going to classes. The goal of the program is to immerse students in "the real world" through experiences that pertain to their future majors and career interests.
Q: Why did you choose to intern with Peter Thompson and The Thompson Team?
A: When first contacted by Peter Thompson with the opportunity, I was immediately interested. I've always had a certain fondness for real estate (I admit to being an HGTV addict), and was already familiar with Keller Williams Realty, as a KW realtor helped my family find our current home in Westford. Because of this, I knew of their commitment to values such as integrity, teamwork, and creativity. Such values match my own, as we both believe that when a company lacks any of these, their long term end results will be less than ideal. After meeting with the team and experiencing the welcoming and energetic atmosphere, I became eager to begin my internship. I already knew there was so much that I was going to learn, and so far, my assertions have been correct.
Q: What have you learned so far, and what do you hope to learn?
A: I've already learned a vast amount about marketing and the housing market. Participating in Peter's team meetings and having Carol Lee's help with projects has taught me about business operations in the real world and how marketing helps businesses to succeed. Experiencing the teamwork that goes into each project demonstrates to me how imperative it is that everyone works cooperatively. I'm excited to further the team's strong social media presence by helping them branch to even more social media platforms, such as Instagram.
Q: What are your plans for after college?
A: After I graduate, I'm hoping to earn my MBA and find a marketing job in the Boston area. I would also love to live in Boston sometime in the future. If I were offered my dream job, it would be working in the marketing department for the Red Sox or Patriots.
Q: How will the internship help you achieve these plans?
A: Already, the internship has acquainted me with the real world and has shown me what is necessary for a business to function as efficiently as The Thompson Team does. The marketing knowledge and techniques I've learned so far and will learn later in the internship will be instrumental in college and in my future career.