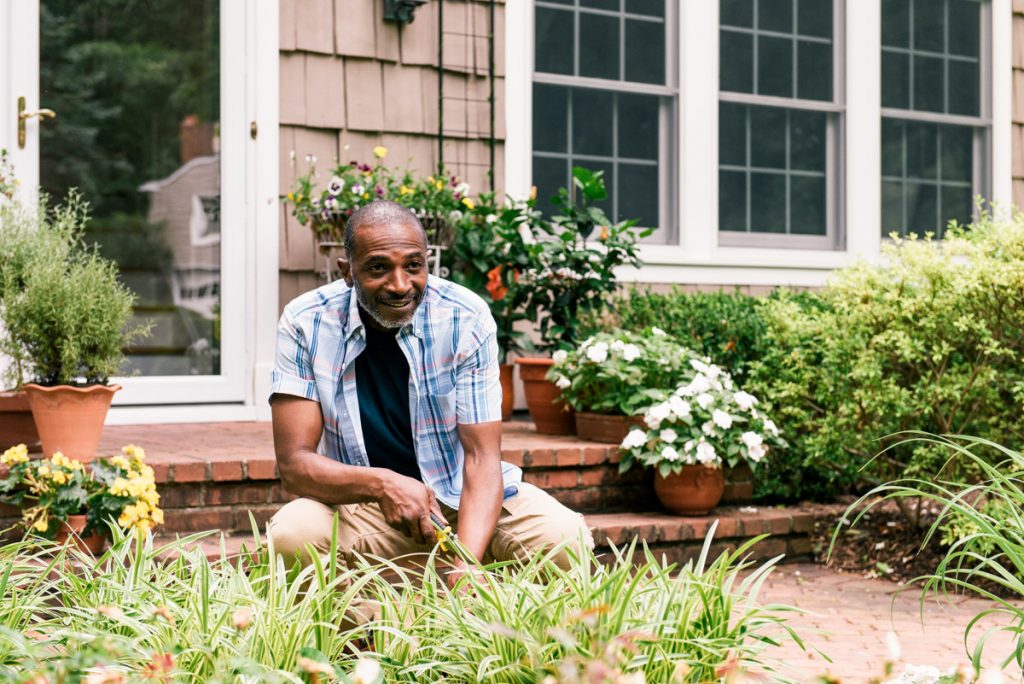 Does spring have you dreaming of lush, sun-washed gardens? Then grab a shovel and wheelbarrow and get growing.
Despite what home makeover shows promise, beautiful landscapes don't happen overnight. To get the sort of landscape that will make your neighbors green with envy, you need to put in some effort.
A noteworthy yard isn't just easy on the eye; it's also a boost for your bank account when you sell your home. A Zillow survey found homes that mention landscaping in their listing sell for 2.7% more than expected. Based on the national median home value at $325,000, a nice yard could increase a sales price by $8,775.
But you don't need to call a professional to get a great yard. Just keep the weeds out, refresh the mulch, and keep the grass healthy, and you'll add a ton of curb appeal to your home.
Here are eight tips for getting started.
1. Invest in your soil
Your soil is the foundation of your landscape. It provides nutrients to your lawn, trees, flowers and hedges. If your soil is bad, the plants that make up your landscape won't thrive. It's that simple. Bad dirt = ugly yard.
To get the dirt on your dirt, send a sample of your soil to your local agricultural extension office for a soil test. You can also buy a soil test kit at a hardware store or garden center and test your dirt yourself. A soil test will tell you the pH of your soil, the amount of organic matter and macronutrients it contains, along with valuable information about soil texture and micronutrient levels. Your test results will typically include tips on how to improve your soil. You may need to add organic matter like composted leaves or composted manure to increase the soil's nutritional value for plants. You can save money by making your own compost pile with discarded food items to keep you supplied with organic matter that you can use to enrich your soil and keep your landscape looking good.
The start of the growing season (early spring) is the best time to do a soil sample — before putting a single plant in the ground.
2. Check for proper grading in your yard
A yard's grade or slope influences how water flows on top of the ground and through the soil. Ideally, your yard should be graded so that all the water that falls on your roof and in your yard flows away from the house. It's bad news if you see water standing around your home's foundation; standing water could eventually cause basement leaks or damage to the foundation itself.
You typically should have at least four to six inches of your foundation showing above the soil. And the soil and vegetation should not be touching the side of your house. If there is soil near the top of your foundation, grab a shovel and move it a few feet away to increase the slope away from your house.
3. Understand your yard or garden's sunlight
Those tags on plants at the nursery that tell you how much sun a plant needs are there for a reason. If a plant doesn't get the right amount of light, it will not thrive, no matter what else you do. So pay attention to them. There are four general light conditions for outdoor plants that you'll see on those tags:
Full Sun

– Plants need at least six hours of direct sun daily

Part Sun

– Plants need between three and six hours of direct sun daily

Part Shade

– Plants need three to six hours of sun daily but need protection from the intense midday sun

Full Shade

– Plants need less than three hours of direct sun a day
Familiarize yourself with your yard's light conditions by observing it throughout the day and during growing season. Light conditions change as the seasons change and the earth moves through its orbit. A good way to monitor light conditions in your yard is with a meter purchased from a garden center or online.
Once you know the light conditions in various locations in your yard, pick plants to match.
4. Choose trees wisely
Trees can add a lot of value to your property, both monetary and aesthetic. Did you know a tree can have an appraised value of between $1,000 and $10,000 depending on the type, condition and trunk diameter?
Some trees that typically can add the most value to a home include bald cypress, white ash, white fir, black maple and just about any kind of oak. These trees are desirable because they are long-lived, not overly messy and stand up to pests and storms.
Some trees that tend not to add value include Tree of Heaven, willows, Siberian elms, white poplar and the universally despised Bradford pear. These trees are unloved because they are invasive, messy and tend to fall over in winds that leave stronger trees standing.
Choose trees with an eye to their mature size, lifespan, growth rate and resistance to disease and storms. Make sure they will be an asset to your yard throughout their growth cycle. Don't plant trees with weak limbs or high susceptibility to pests, or place them too close to your home, or you could be paying an arborist a lot of money to come cut it down in five years.
5. Buy healthy plants
We've all been tempted to buy the cheap plants from the clearance section at the nursery or garden center. You know the ones: They're 50% dead and 75% off. Unless you have a very, very green thumb, or you get a thrill out of spending money on a plant that's likely to end up dead as a stone in a few months, stay away from these plants. You want a nice yard, not a project.
Likewise for mail order plants you see advertised in your social media feed or in catalogs that show up in your mailbox midwinter. Take a pass. Your best bet is to buy healthy plants from nearby growers. Your second-best bet is to buy plants from garden centers as soon as they come off the truck from the grower. Look for plants with healthy leaves and lots of new growth. Stay away from plants that look frazzled. Ask the garden center manager what days they get their shipments, and buy your plants on those days.
6. Plant for all seasons
It's tempting to do all your plant shopping with spring in mind because, flowers. But to avoid 11 months of ho-hum landscaping, pick a variety of plants that will offer interest at different times of the year.
Grow summer bloomers like canna lilies, coneflowers and gaura to keep flowers blooming in the hot months. Plant mums, goldenrod, asters and other fall bloomers for color when the temperatures cool. For winter interest, look to trees with interesting branch shapes and bark, evergreens or winter-hardy perennials like heuchera, sempervivum and cast-iron plants.
7. Pick drought-resistant plants
No, that doesn't mean planting a yard full of cacti. It means picking sturdy plants that don't need an irrigation system, daily rain or constant hand-watering to look their best. "I want to spend two hours a day standing in the yard with a hose in my hand watering my flowers," said no one, ever.
Drought-resistant plants vary by climate, but they include coneflowers, catmint, Russian sage, lavender, salvia, yarrow, cast iron plants and artemisia.
Not only will you likely save money on your water bill and free up your spare time by choosing less thirsty plants, but it also could help your house sell faster when you're ready to move. How much faster? A Zillow study found home listings that mentioned "drought-resistant" plantings or yards sold 13 days faster than comparably priced houses.
8. Mind the lawn
Depending on where you live, turf grass can be one of the hardest plants to grow and maintain. Really. You must mow it, aerate it, de-thatch it, feed it, keep pests out of it, and in some areas of the country, overseed it in the winter. One of the best investments you can make is hiring a professional lawn service to maintain your grass. Don't just hire a 13-year-old with a lawnmower. Get someone who knows how to care for turfgrass. A pro can make sure your lawn stays healthy and keep your home's curb appeal at its peak. You deal with the flowers and spend more time laying in your hammock.